Oral Oil Drops


Bezig met laden...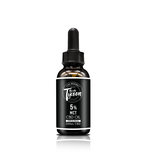 5% Drops 10ml
When Beginning your CBD journey, CBD drops are always a great place to start!
The drops have a light hemp flavour that is pleasant to the taste and popular option with newcomers & corrent users alike.
This product is most often taken orally,m but for something differnet, why not try adding it to your coffee or tea!
CBD is believed to have positive effects on both physical & mental welbeing, and is widely taken by most of our costumers to help with sleep, stress or anxiety.
Verkoop Advies Prijs: € 35,75
Bevat 500mg CBD